Happiness lies in the joy of achievement and the thrill of creative effort.
– Franklin D. Roosevelt
FALL SEWING SCHOOL REGISTRATION IS NOW OPEN
Cape Cod Kids – Stitchology Sewing School
Add some STEAM to your child's activities!
Can your child have a great time and learn important skills at the same time? ABSOLUTELY. Elementary and middle school years are ideal times to add some creative learning opportunities to enhance your child's development. STEAM, (Science, Technology, Engineering, Arts, and Math) covers the full spectrum of development that will help your child attain success.
STEAM learning with Sewing is lots of FUN! By exploring and learning a new skill your child will add valuable confidence and knowledge that complements classroom time.
Sewing is an ideal STEAM activity.
While creating a sewing project your child will visualize a finished product, plan ahead, and see how the individual steps of the process build to the completed work. These skills are applicable to many things like project management and engineering.
In sewing, your child will measure, cut, and use shapes. These are measurement and geometry skills. These skills also improve spatial awareness and develop eye-hand coordination and fine motor skills.
Sewing builds CONFIDENCE
There is so much more, but the most important thing is that your child will start with a few separate pieces and will create something tangible from the work of their hands. Children need to try something that is a skill stretch. They need to try new things. And, they need to see that their work has value. Sewing a project and making something they can use will bring a sense of accomplishment that is the most valuable benefit of all!
Learn more about Stitchology with Dinah Lane at Harwich Channel 18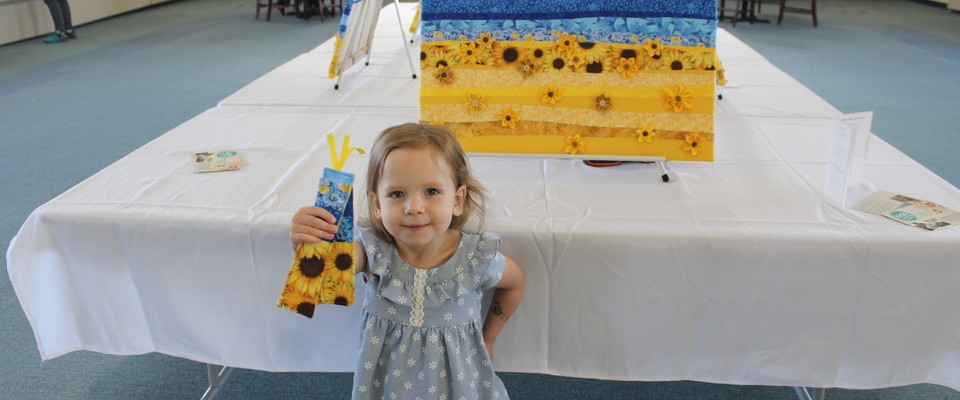 Emelia Paine, 3, hands out Ukrainian resilience book marks during the Saturday's "Resilience – Art In Times of Crisis" exhibit at the Harwich Cultural Center. The book marks were created in the Stitchology studio at the center. The event was part of the "Prelude to ArtWeek" festivities put on by the chamber of commerce. See page 13 for a story and more photos. WILLIAM F. GALVIN PHOTO
The Cape Cod Chronicle
Open House Exposes Variety Of Activities At Cultural Center
Late Saturday afternoon the "Resilience – Art in the Time of Crisis" art exhibit was held in the second floor library of the center. The theme of the exhibit focused on the blue and yellow of the Ukrainian flag and the humanitarian crisis occurring in that country. 
SEND ME INFO ABOUT UPCOMING KIDS WORKSHOPS AND PROGRAMS!
We are always thinking up new projects and ways to introduce kids to the artful science of sewing! Sign up today to get info on upcoming Stitchology workshops and classes.